Process documents digitally
Automatic Document Recognition
No more piles of paper, lengthy data transfers, or misplaced documents: with AI-powered data extraction, you can digitize, process and archive all types of documents in your company.
Intelligent digitization of personnel records, order confirmations, delivery notes, timesheets, and more

Significant savings in resources and processing times

All input channels integrated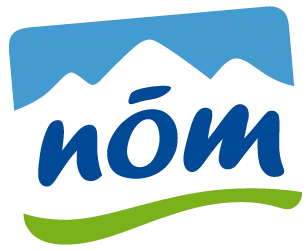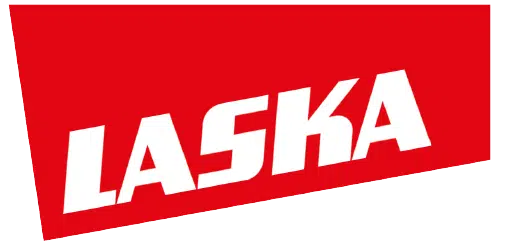 Basic Module
One Base, Many Possibilites
You can intelligently extract data from various types of documents with our basic module smart FIX. The data is automatically passed on  to the subsequent tool for structured processing. With AI and machine learning approaches, the solution continuously learns and optimizes itself. Even without lengthy training, the solution achieves high recognition rates. smart FIX can be flexibly customized and expanded to meet your needs.
Benefits
Digitally processed documents have many benefits
Efficient Automation
You digitize your documents sensibly, significantly reducing time and cost. Moreover, the digitized process is much less error-prone.
Intelligent Workflow
You get a preconfigured processing and approval workflow that is expanded with customized features based on your specific requirements.
User-friendly
The solution is entirely digital, from document receipt to electronic archiving. Users can start without lengthy training.
Automatic Checks
Intelligent validation and data consistency checks take place without additional effort
Easy processing
The structured data is provided as XML and/or passed directly to the respective interface
No more paper
With final digital archiving, no sheet needs to be printed, filed or otherwise physically handled throughout the whole process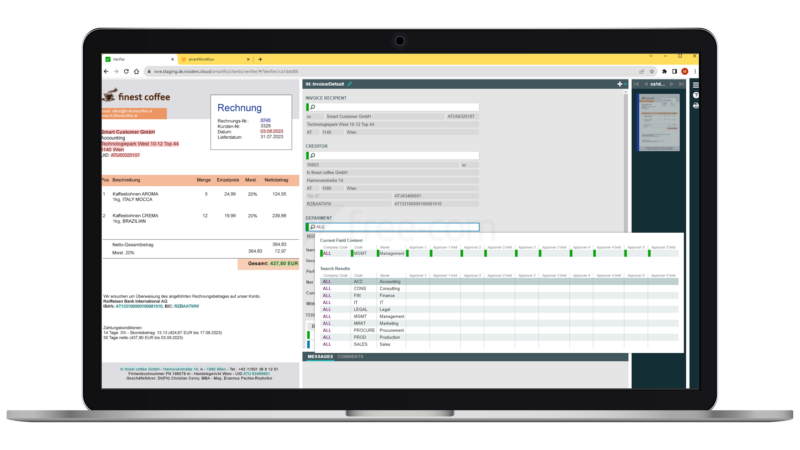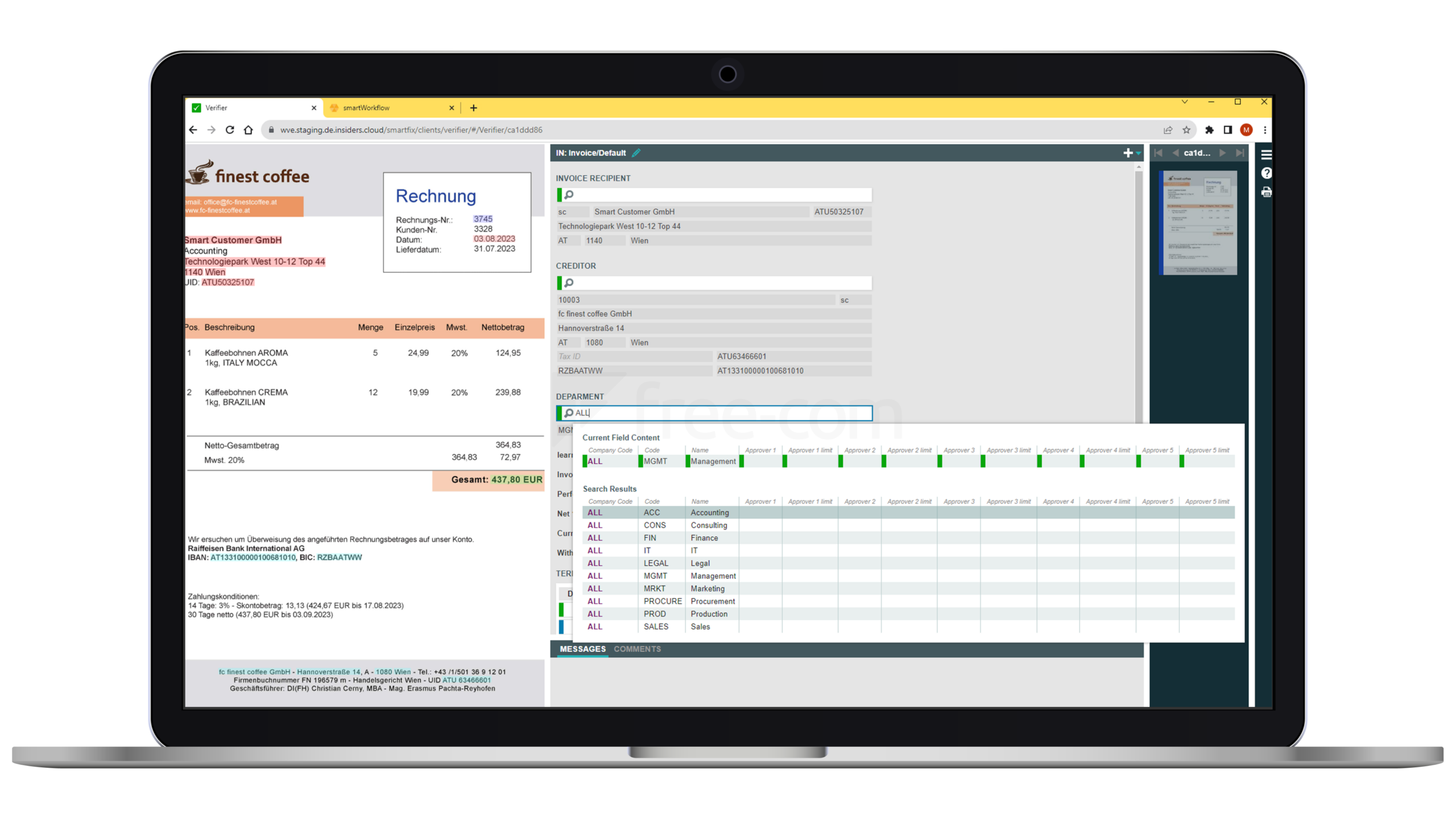 Invoices
smart INVOICE: Digitize and Automate Incoming Invoices
The invoices are scanned using OCR and all relevant invoice data is extracted in a structured format, without the need to train on the exact invoice layout in advance. If necessary, unclear items are marked for manual review and the self-learning system can handle these cases on its own in the next run. It recognizes international invoices as well as varying payment terms and automatically checks for conformity, compliance rules, and amount consistency.
Whether it is e-invoice formats like XRechnung, eb-Interface, and ZUGFeRD, PDF invoices, or traditional paper invoices, our universal solution offers maximum flexibility for the processing of incoming invoices. This makes you independent of the infrastructure and procedures of other companies, partners, and suppliers, which would otherwise require coordination.
The solution allows for location-independent processing and approval of incoming invoices. Documents that need to physically be passed through individual departments are a thing of the past. Thanks to the user-friendly and self-explanatory user interface, users can start without lengthy training. Even from mobile devices.
The solution is multi-tenant capable, independent of the ERP system in use and can seamlessly integrate with all cmmon accounting systems (BMD, DATEV, Dynamics 365/BC, SAP S4/Hana – Cloud).
Cloud Solution
Incoming Invoice Processing as SaaS
Scalable
The solution scales flexibly according to your current needs, from 10 to 10,000+ invoices per day
Efficient Growth
It is also efficient for SMEs with a low volume of invoices and can grow with them. Switching to on-premises is possible at any time.
Fully integrated
Without installation but fully integrated into your environment.
Secure
Your data is securely stored in certified European data centers.
Fast GoLive
GoLive in just a few weeks with full flexibility through low-code customization options.
Order Processing
smart ORDER: Intelligent Order Processing with Universal Application
smart ORDER can quickly and comprehensively extract and classify all relevant order data without prior training on forms or structures. The self-optimizing tool independently validates master data and analyzes the information, including special conditions. Among other things, it can reliably process customer-specific item names, individual product characteristics, multi-page and international orders. In the flexibly preconfigured post-processing of documents, employees then verify the data and check the anomalies marked by smart ORDER. Integrated into the respective downstream system, individual orders follow a digitized, efficient, and error-resistant path.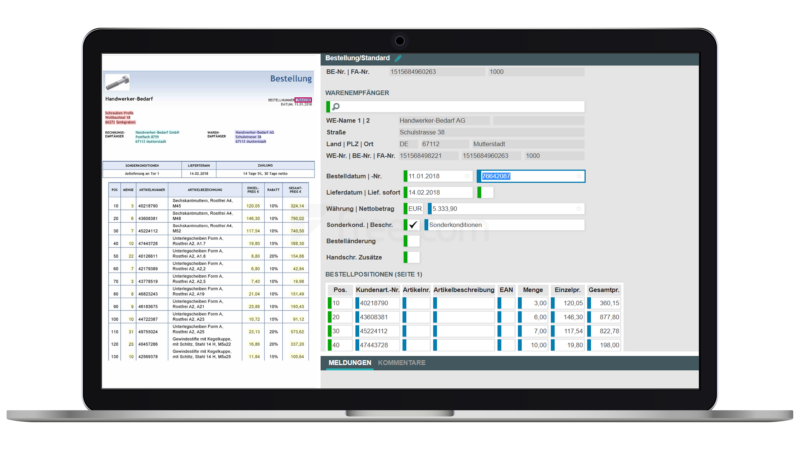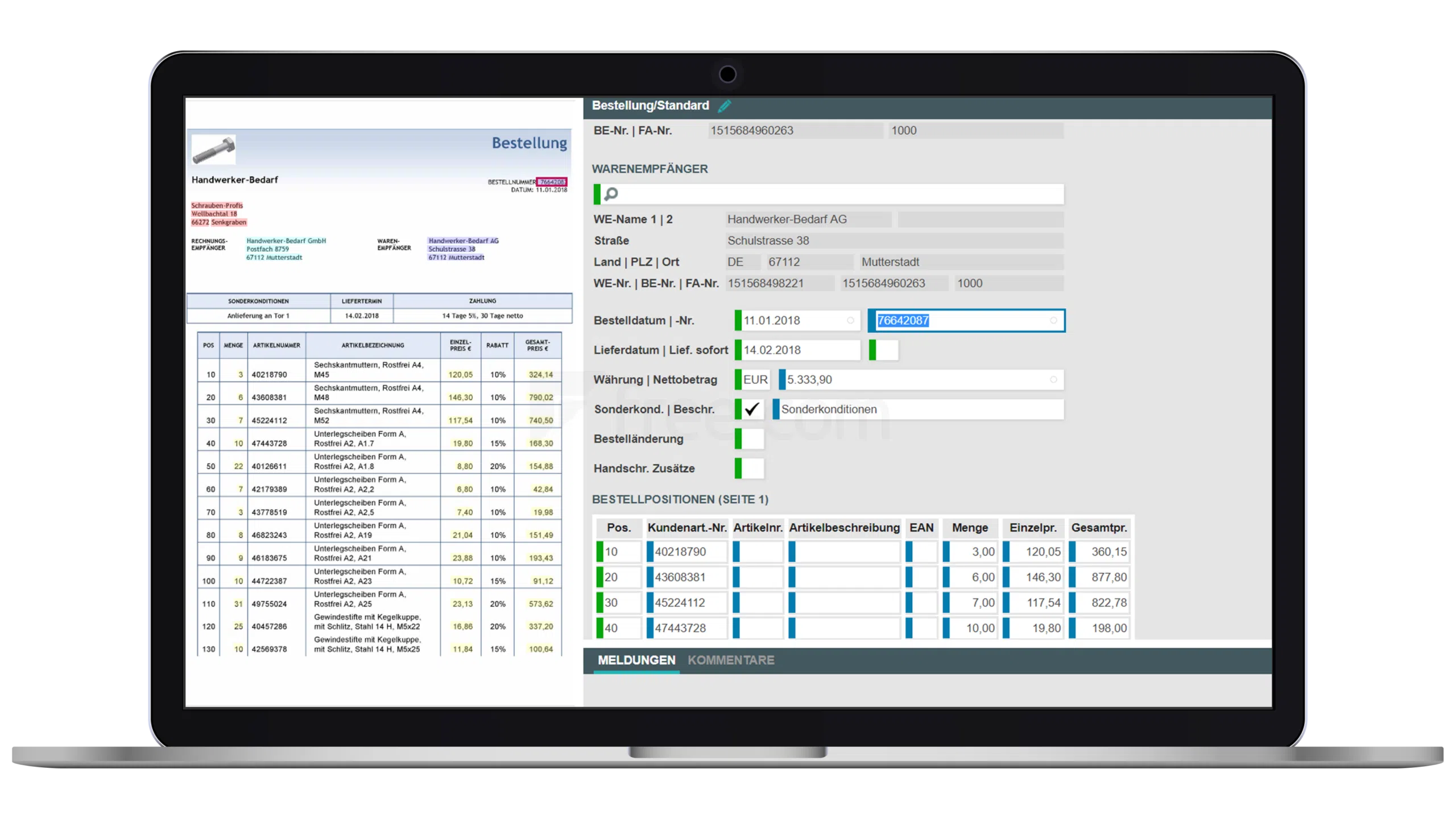 smart ORDER makes the costly implementation of EDI interfaces obsolete.
The implementation of EDI interfaces, such as EDIFACT, is costly and requires ongoing effort in terms of support and service. Customers must initially be willing to invest effort and subsequently continuously contribute relevant order volumes to make the solution cost-effective. At the same time, other customers continue to be served via PDF, fax, or email—an unstructured and inefficient mixed solution.
smart ORDER can optimally complement and even replace these structures with its intelligent functions. By connecting to downstream business systems, the digitized orders are processed in a continuous, congruent process.
The post-processing in smart ORDER is configurable. It follows the verifier principle and is available in different languages. smart ORDER simplifies order processing, positively impacting numerous other processes in the company, such as the significantly more efficient management of warehousing and delivery logistics.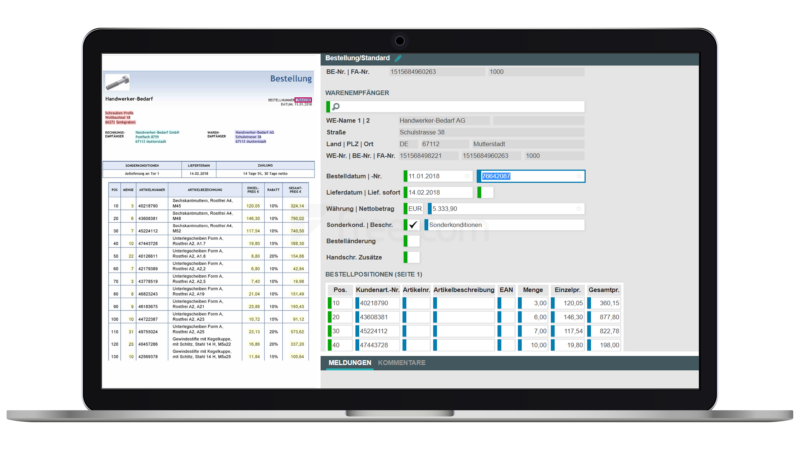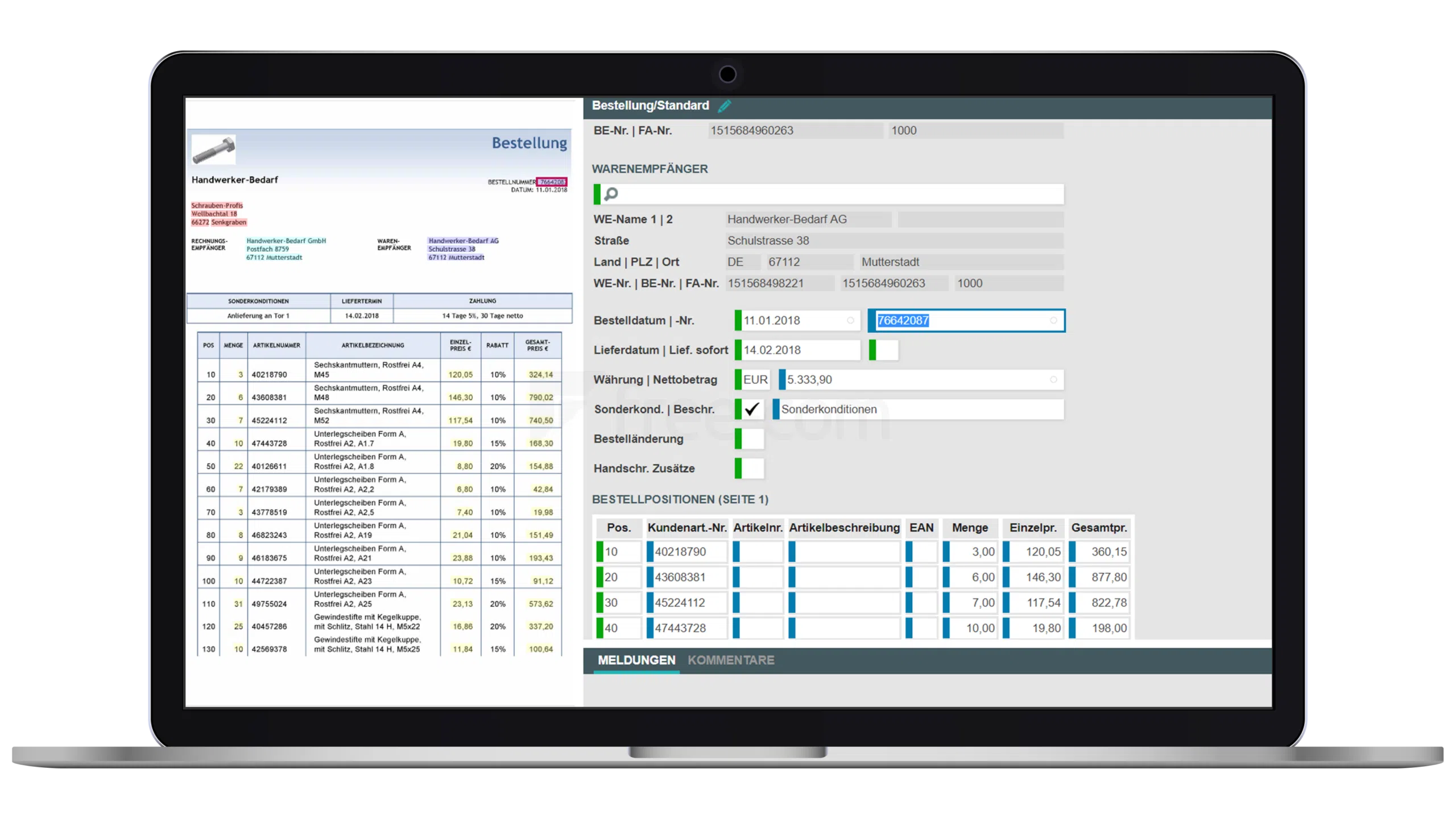 Order Confirmations
Digitized Processing of Order Confirmations
smart ORDER CONFIRMATION extracts all relevant data from the order confirmation: date, order number, supplier, item number, description, price, quantities, delivery date, etc. By automatically comparing with the order stored in the ERP, discrepancies are quickly identified, marked for manual user review, and then made available for the subsequent process. Correct documents can be approved directly.
Delivery Notes
Automated Processing of Delivery Notes
Delivery notes are automatically read upon receipt, whether as an email or in paper form, and matched with the order data, allowing for corrections or approvals in just a few clicks. Both header and item data are read and checked for correctness, including date, order number, supplier, order items, item quantities, and numbers. After scanning the documents, all relevant information is automatically available and the delivery notes are digitally stored.
The solution not only automates the process and saves a lot of time in processing delivery notes but also requires fewer resources and coordination efforts due to the digitization of documents.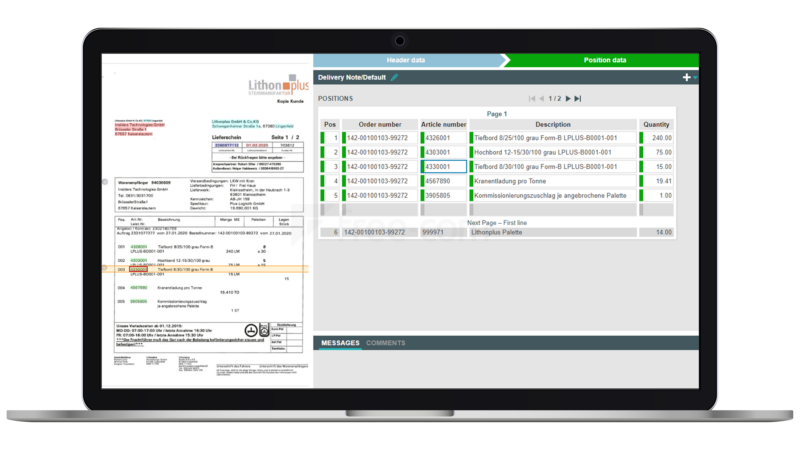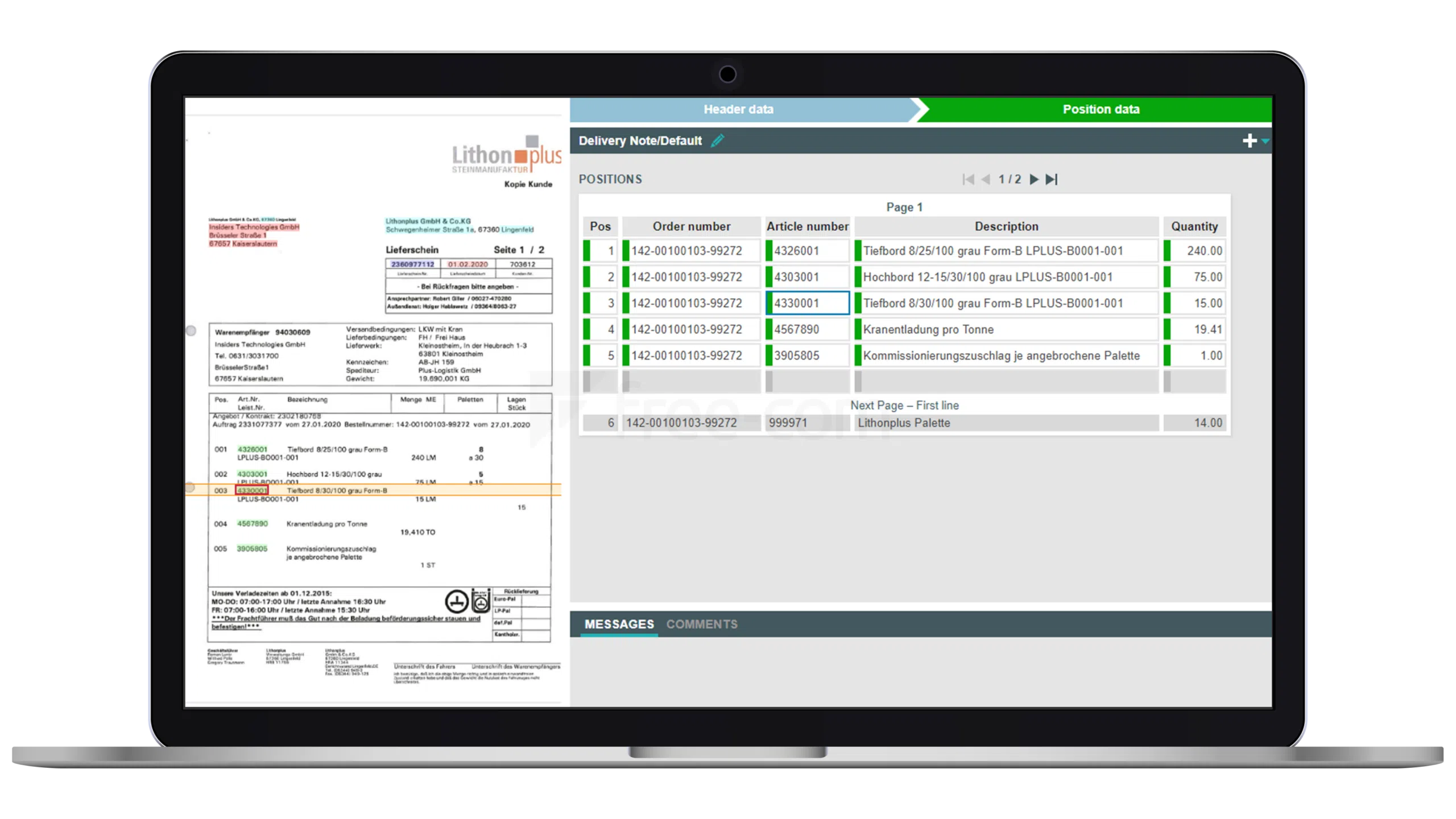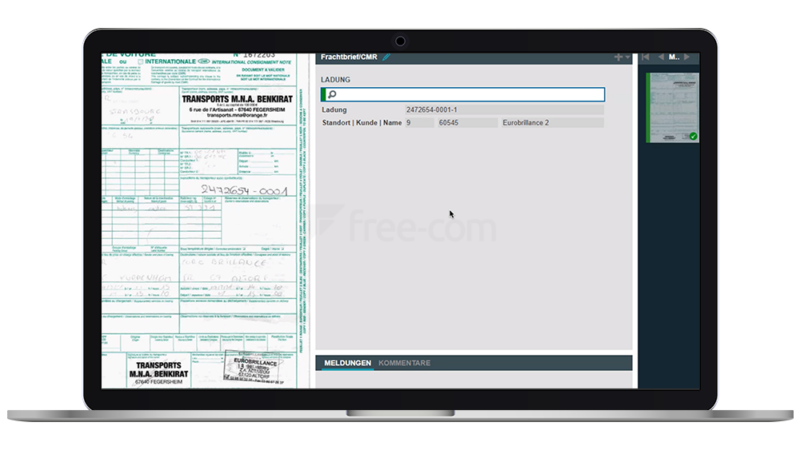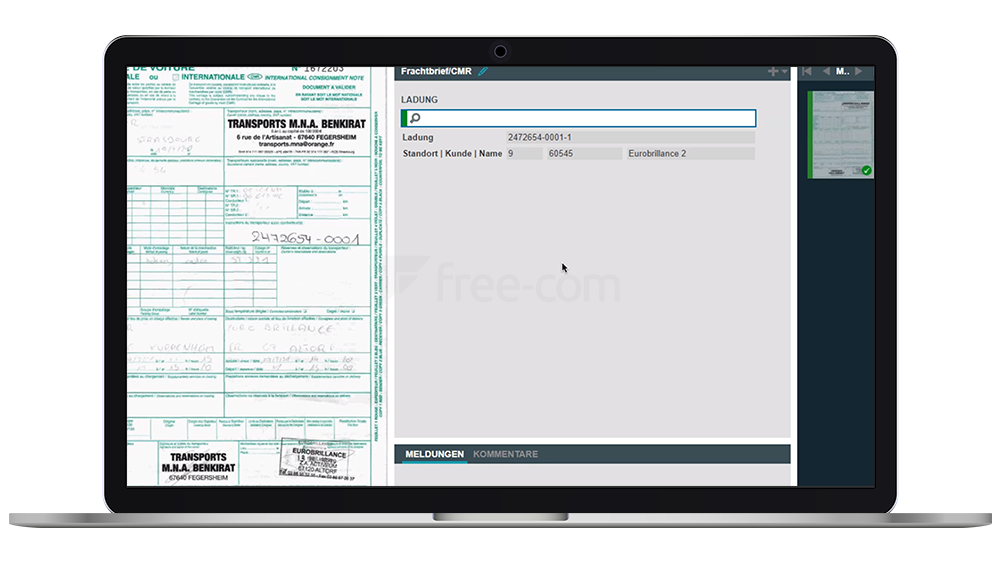 Individual Documents
Processing Your Individual, Company-Relevant Documents
Our solution automatically extracts structured data presented in PDF form and forwards it to the ERP. This can include various types of documents regularly processed within the company: certificates, notices, lists, letters, and more. Our solution learns the document's structure without prior intensive training and marks notable or deviating positions for manual review. Specific parameters, such as automatic validation of the provided data or a maximum deviation value, can be configured.
We will implement your individual requirements to the best possible extent!
Further Document Types
Relevant data from the waybills, such as the waybill number and load number, is extracted before the bill of lading is returned. The document is stored in the ERP and can be digitally archived with AuditProof.
Using the defined parameters (such as batch numbers or article numbers), confirmations of the quality-assured production of a material are automatically archived and read out in the ERP.
Time recording documents from temporary workers are automatically extracted and forwarded to the respective subsequent tool.
… such as refund requests submitted to specific departments in your company.
Unsere Lösung kann alle PDF-Dokumente mit strukturierten Daten auslesen und verarbeiten.