Intelligent data extraction from scans and PDFs, flexible approval workflow directly in SAP
Success Story: Zellstoff Pöls AG

About Zellstoff Pöls AG
Zellstoff Pöls AG is one of the largest producers of elemental chlorine-free (ECF) long-fibre sulphate pulp in Central and Eastern Europe, based in Styria. Bleached kraft paper called STARKRAFT is produced on the integrated paper machine.
Sector
Implemented Solutions
smart INVOICE

Karos INBOX
Fields of Application
Intelligent Incoming Invoice Processing with SAP

SharePoint as Audit-Proof Archive
Efficient Incoming Invoice Processing at Zellstoff Pöls
Zellstoff Pöls AG, a member of the Heinzel Group, has opted for our incoming invoice processing and our DMS solution.
The audit-proof archiving system AuditProof eArchive, which is based on MS SharePoint, is the core of the DMS. The seamless integration of the existing SAP system, which has been in use at Zellstoff Pöls AG for many years, was particularly important for the decision.
This integration is achieved on the one hand through an ArchiveLink interface, which is common in the SAP environment, and on the other hand through the CONNECT sidebar, which shows the user the relevant documents in the correct SAP context.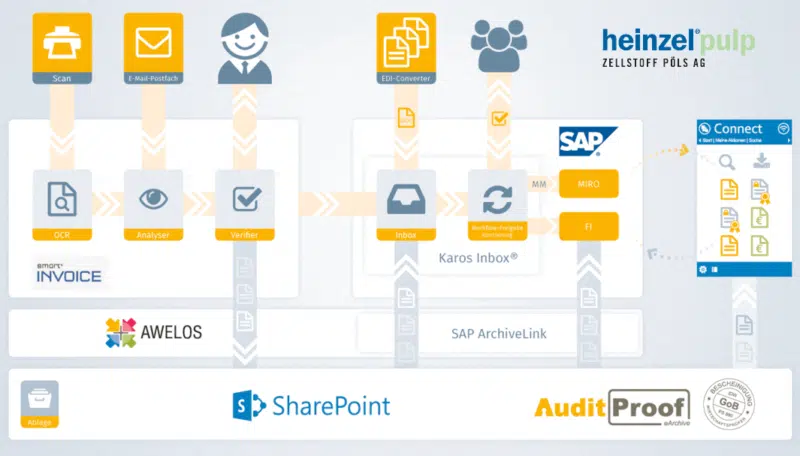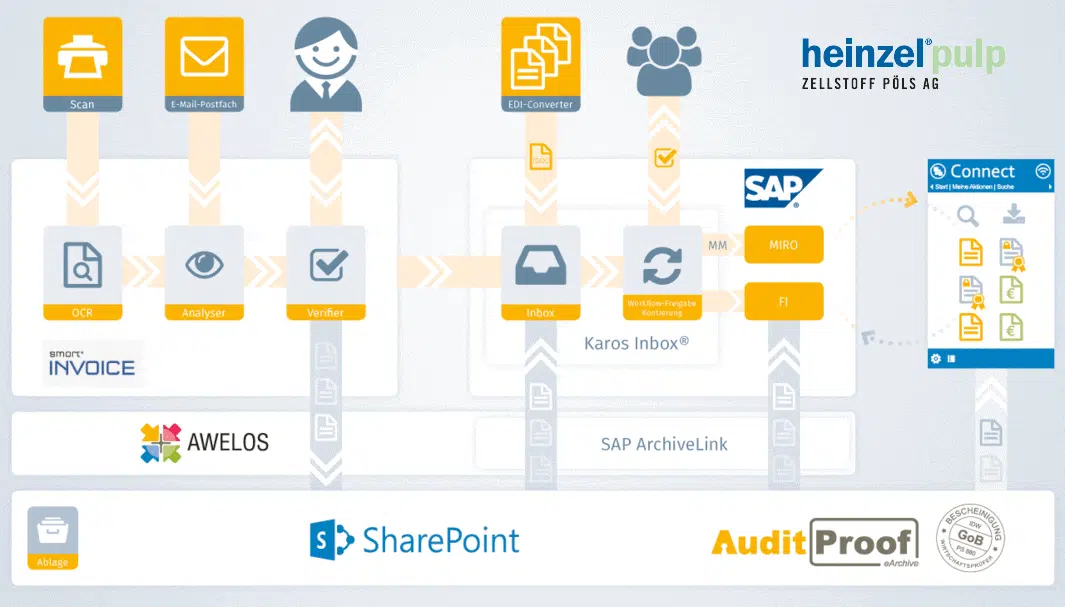 For the efficient processing of incoming invoices, the first step is to use smart INVOICE, which analyses the incoming invoices – regardless of whether they are scans of paper invoices or PDF invoices sent by e-mail – and extracts the invoice data. Afterwards, the data, including order information, is transferred to Karos INBOX, which is directly integrated in SAP.
Depending on the invoice type (MM, FI), the invoice is then, and if possible automatically, submitted to the right person for approval in the SAP Business Workflow. The approval does not have to take place directly in the SAP GUI, but can also take place directly by e-mail or via a website.
Even more complex requirements for the approval and posting protocols, as they occur in the day-to-day business of the group, could be implemented and cleanly integrated with Karos INBOX with relatively little effort.
This means that the degree of coverage over the entire process of processing incoming invoices is very high and creates consistent added value for Zellstoff Pöls AG.
Get to know our clients
More Success Stories